The Fairbanks Retriever Club is the oldest established retriever club in Alaska. Originally known as the Alaska Field Trial Association, it has been active in the Interior of the state since the early 1950s. In 1960 it was formed under its current name of Fairbanks Retriever Club. Through the years and despite changes in members and leadership, the club remains dedicated to all the retriever breeds and helping their owners improve their knowledge and skills in training, testing, trialing and hunting their dogs.
During the course of the year, we produce several newsletters, a brochure, training classes, outdoor field sessions, picnic trials and AKC hunt tests and field trials. We welcome all retriever owners, from the beginner puppy owner all the way to the seasoned trainer!
---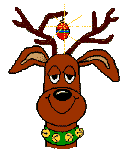 FRC Christmas Social
Saturday, Dec. 7, 2013 at 4 p.m.
It's the holiday season and time to join your fellow retriever enthusiasts for some food and spirits! We are having an informal get-together at the Double Eagle Restaurant on Saturday, December 7 at 4 p.m. The Double Eagle is located at the Fairbanks Golf Course on Farmer's Loop Road. Click here to preview their menu. So put aside your whistles and your frozen ducks and bumpers and join us!
---
AKC Hunt Test Judge's Seminar
February 8, 2014
Interested in retrievers? How about hunt tests? Then don't miss an opportunity to learn all about AKC hunt tests directly from an AKC instructor. The Fairbanks Retriever Club will be holding an AKC Hunt Test Judges' Seminar on Saturday February 8, 2014. You don't have to be a judge to attend. There is lots to learn by anyone interested in hunt tests and retrievers.
Registration will be $30. We're still working on location and time; when that's available, we'll have online registration through this website. Also watch for flyers at local sport stores, pet stores, and veterinarians.
---
2014 Club Officers and Board of Directors Elected
FRC is happy to announce our new slate of officers for 2014, as well as our board of directors. They are:
President: Cindie Little
Vice-President: Karen Wilson
Secretary: Russ Hardy
Treasurer: Debbie Ganley
Board Member: Derrick Wilkerson
Board Member: Sarah Love
Board Member: Paula Elmes
---
2014 Memberships Due
FRC's membership year begins October 1. That means dues are due! To renew your membership or become a new member, download the membership form and mail it in. OR you can sign up online by clicking here. Current membership will keep you on our mailing lists as well as give you discounts at some local feed stores and vendors. Don't wait, sign up now!